Active Alerts – Want to be notified when a new book by your favorite author comes in?
Active Alerts will email you when the library gets an item you want.
Go the library's webpage www.swkls.org and click on the catalog or SWiftnet, VERSO 5. Login using your library card number and password (the password is your last name in lower case). If you do not know your library card number you can ask at the front desk.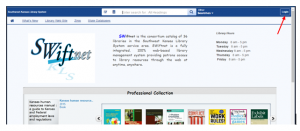 Click on the down arrow in the upper right corner to open your account.
Click on Active Alerts.
If you haven't already chosen a day of the week to be emailed on, then click on the drop‐down to choose a day.
You can search by All Headings, Author, Title or Subject.
Select which formats you want. If you only want audio CDs, then select Audio CD.
Start Search When (Date Range) will start searching items that were added as of 1 month ago by default. You can change it to start searching as far back as two years ago.
You can add a Publication Year to limit your results to newer items.
Be sure to select your library or a section of your library under Locations to Search:.
Click on Save.
Your search will run automatically every week on the day you selected.
When an item you are looking for is added to the catalog, you will get an email that looks something like this:
Your Search for "mystery"
1 message
no-reply@librarycard.com <no-reply@librarycard.com>                                                                        Fri, Jun 24, 2016 at 2:12 AM
To: ed.charlene
Hi Ed McGuire,
Southwest Kansas Library System is pleased to inform you that the following items have been added to Southwest Kansas Library System's collection in the past week. These titles were identified as a result of the library's automated current awareness service.
Author: Woods, Stuart,
Title:  Dishonorable intentions [CD] /  Stuart Woods.
Publisher:
Date:
VERSO:                  http://swkls-verso.auto-graphics.com/mvc/command=search?
query=agcn=950928&lid=SWKLS
Author: Atkins, Ace,
Title:  Robert B. Parker's Slow burn  [BOOK ON CD] /  by Ace Atkins.
Publisher:
Date:
VERSO:                  http://swkls-verso.auto-graphics.com/mvc/command=search?
query=agcn=950932&lid=SWKLS